Cobot Consulting – your chance for 
industry 4.0
Our team of specialists around MRK pioneer Dieter Faude works closely with your company to develop the perfect MRK system solutions and applications from individual component modules.
Cobot has developed a guideline which is vital for the success of your production processes as the application combines end-effector (tool), robot, your product and your work environment.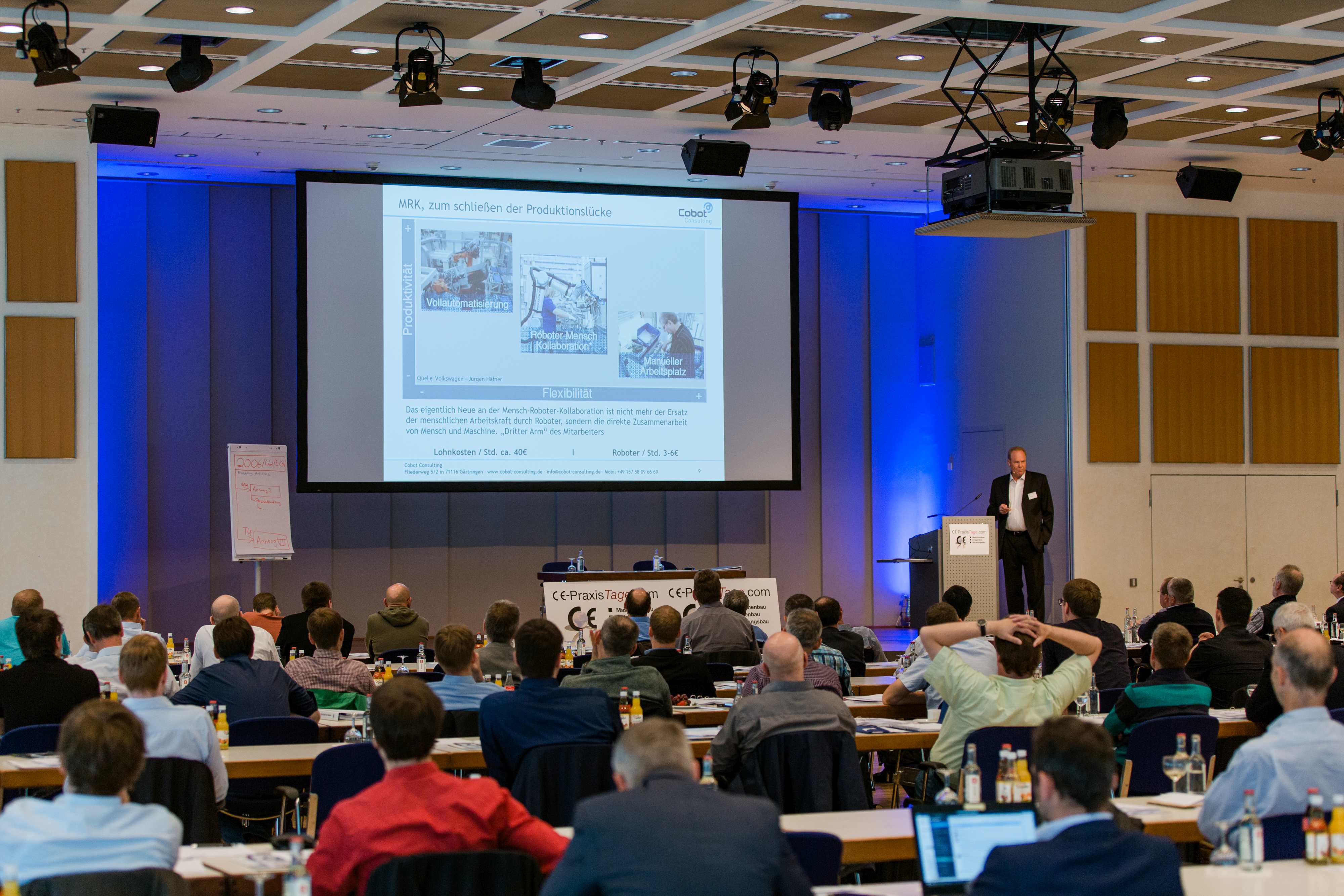 We support you every step of the way. Firstly, we provide a short analysis of your specific requirements and develop a customized concept and guidelines for each customer that includes your individual abilities. Our consultants work with you on the design, develop an organizational analysis and finally move on to the implementation into your production processes.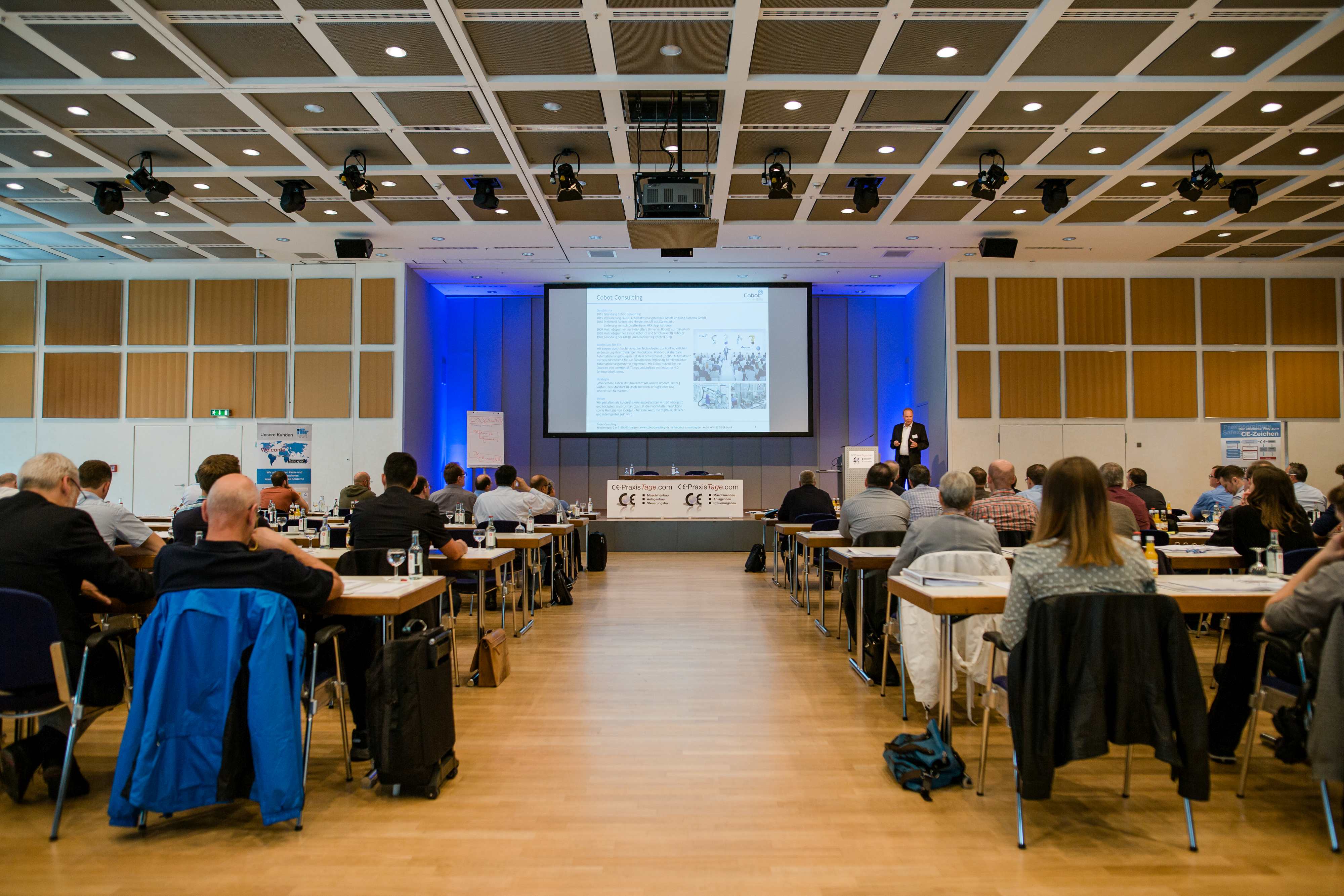 We accompany you on the way to the certification of your product to save time and money. Technology only fulfills its purpose if it does not pose a threat. Even in the early phase of a product development, it is advisable to get in touch with the right contact to ensure a targeted and thus efficient development.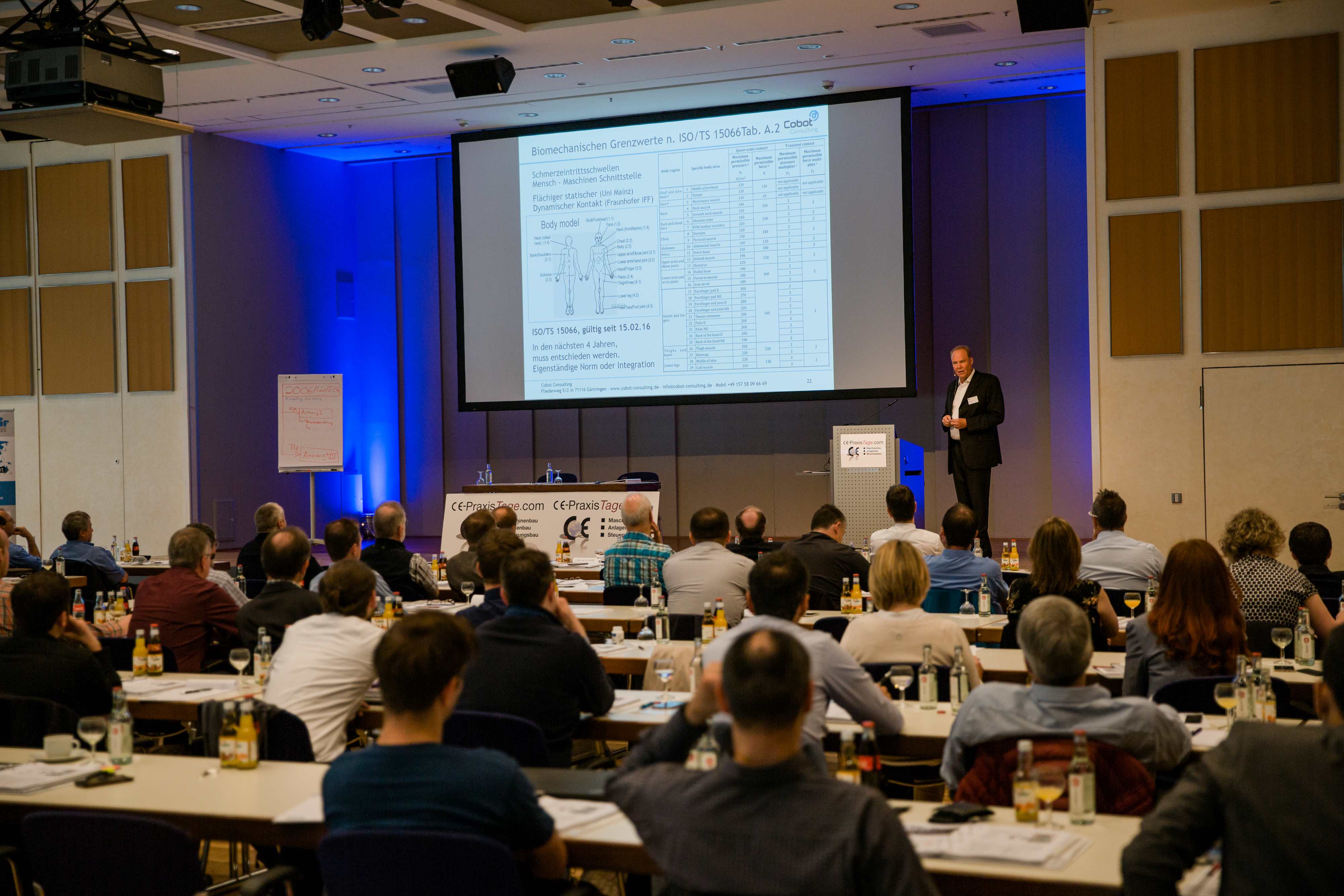 Our partners can offer you ready-to-use MRK system solutions and applications. We also have a wide network of suppliers that deliver individual components or custom made mechanical parts. We work very closely with BGHM and IFA (DGUV) to make sure that CE compliance is always up to date.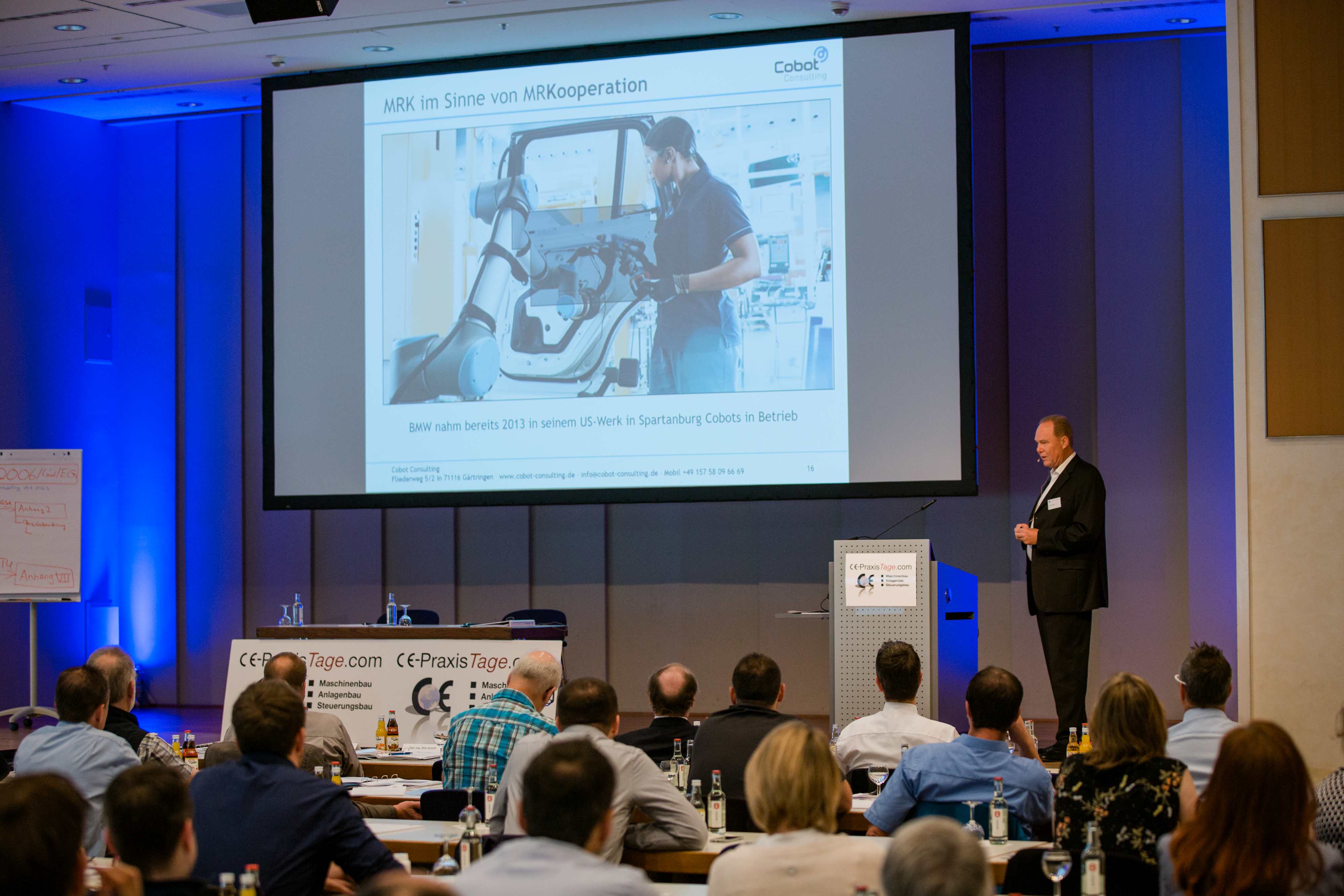 "Would you like to successfully introduce human-robot collaboration into your company?"
Cobot Consulting creates your CE documentation for you as an external CE representative or is available to you as a consultant on request. For your CE documentation, you can rely on our experience and our expert knowledge for the Machinery Directive and the Low Voltage Directive.
Risk assessments consist of determining the limits of the machine, risk analysis, risk assessment and the definition of necessary protective measures and thus the fulfillment of machine safety. Cobot Consulting integrates safety into new or modified machines as early as the design process.
We perform biomechanical measurements based on the biomechanical limit values ​​- corresponding to the pain threshold of humans, which were determined for a total of 29 body locations – according to ISO TS 15066 with the measuring system KMG-500 KOLROBOT from GTE.
Optimally created operating, repair, service and operating instructions are not only the prerequisites for the commissioning of a machine, but you also use them to provide unmistakable instructions and recommendations from the point of view of the user or machine operator.
Our know-how is summarized for you
We have been specializing in industrial facilities for over 25 years and over 10 years of expertise in HRC systems, so your project will benefit from our extensive industry know-how. With a wide range of solutions, we can advise our customers individually and independently of the manufacturer.
Organizational structures, legal requirements, standards, technical boundary conditions and the requirement for HRC system integration are just some of the aspects that we consider.
Our 10 point service to start your project
Determine a process – Establish dividing or non-dividing safety features – Determine weight of parts and part's geometry – Determine desired grip technology – Determine Cobot part supply and removal – Set Cobot intervals – Determine Cobot work area and axle arrangement – Set Cobot safety features – Select Cobot type and manufacturer – Set Cobot collaboration type.
One of our specialties is lightweight and HRC applications with cobots. Are you unsure whether your HRC station takes into account all relevant guidelines and standards? Make an appointment with us to be SAFE.
Your highly qualified partner for the creation of CE conformities If you would like to have your product certified by a notified body, we will also be happy to accompany you.
For correct implementation, you don't just need experience and know-how, because special software is required – such as the Safexpert software from IBF Solutions AG used by us, which was developed especially for the machinery directive 2006/42 / EG. We have been working with Safexpert for over 15 years.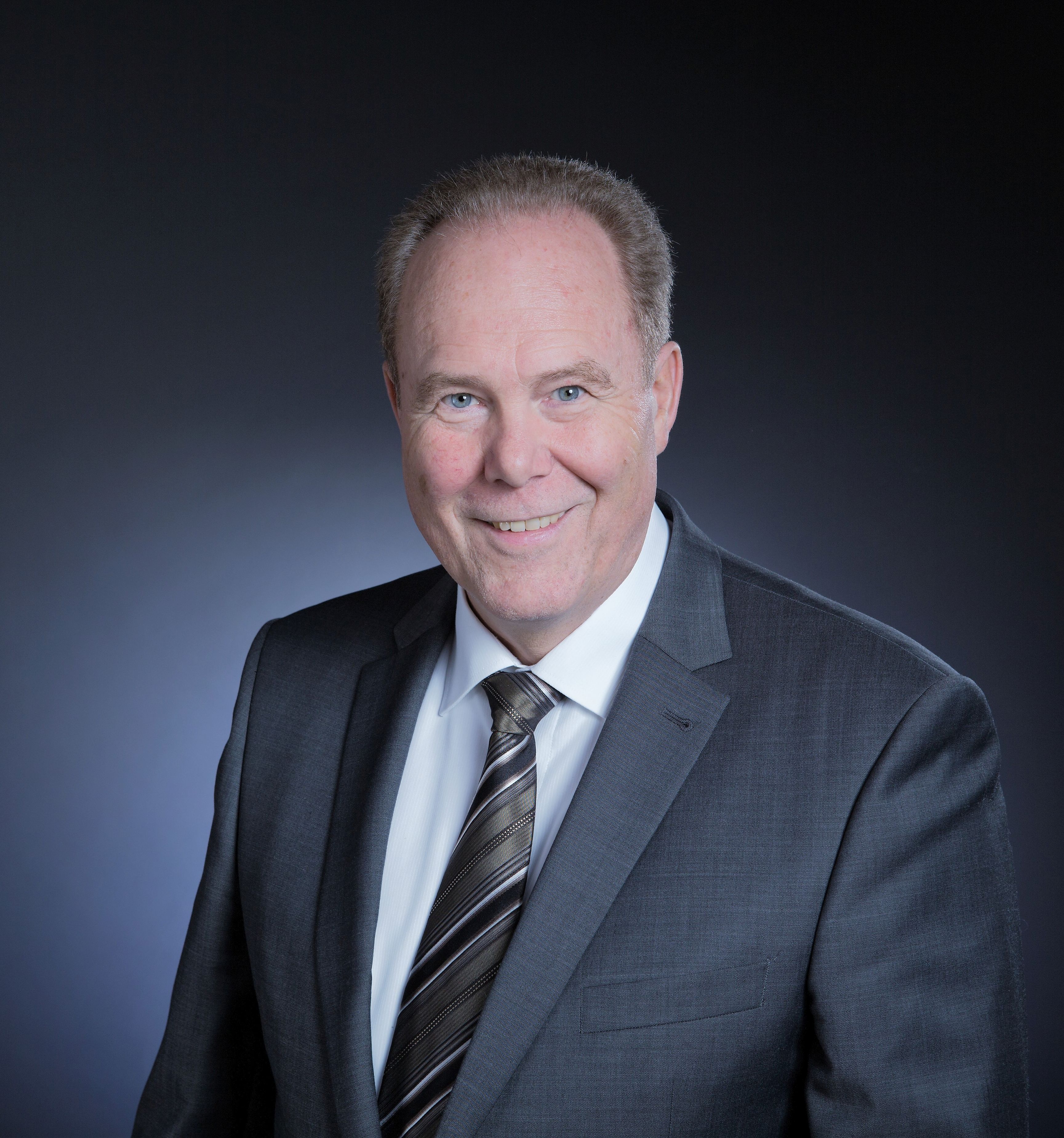 History

2016 Foundation of Cobot Consulting
2014 Sale of FAUDE Automatisierungstechnik GmbH to KUKA Systems GmbH
2010 Preferred partner of UR Denmark, delivery of ready-to-use MRK applications
2009 Distribution partner of Universal Robots Denmark
2002 Distribution partner of Fanuc Robotics and Bosch Rexroth Roboter
1990 Foundation of FAUDE Automatisierungstechnik (automation technology) GbR
Your Growth
Our highly innovative technology continuously improves your existing production processes. Your standard automation systems will be enhanced by changes to scalable automation solutions with focus on 'CoBot' automation. Cobot offers you the opportunity to profit from the Internet of Things and to build a 4.0 serial production line.
Strategy
The 'adaptive factory of the future'. We want to support the German industrial market in its efforts to become more successful and more innovative.
Vision
As an automation specialist with ingenuity, we design tomorrow's factories, production plants and assembly lines with the highest quality standards – for a digital future that is safer and more intelligent.
We are your experts when it comes to meeting the requirements of the current technical safety regulations and the relevant technical guidelines and standards
We support you in the selection of the ideal production assistant from a large variety of currently available brands.
A collaborative robot, or cobot for short, is an industrial robot that works with people and is normally not separated from them in the production process by protective devices. Unlike conventional industrial robots, which do their work in separate areas, cobots are in direct contact with the employees. Using sensor technology, they register movements and positions of people – and are therefore safe enough to assist workers directly without exposing them to the risk of injury. The cobots are flexible, easy to program and easy to move. With a weight of only ten kilograms in some cases, the collaborative lightweight robots can be easily carried by just one person and installed anywhere.
There are different manufacturers with different specifications and characteristics e.g. :
ABB – YuMi; Aubo Robotics – AUBO-i5; Bosch – APAS assistant; Comau – AURA; Denso Robotics – Cobotta; Doosan – M-Serie; Fanuc – CR-35iA; Festo – BionicCobot; fp-robotics; Han's Robot – Elfin; Hanwha – HCR-5; kassow robots – KR810-1205-1805; Voith Robotics – KBee; Kinova Robotics – JACO² & MICO²; KUKA AG – LBR iiwa; MABI Robotic – Speedy 6,12 & MAX 150; Mitsubishi Electric – MELFA; MRK-Systeme GmbH – KR5 SI; Nachi Robotics – CZ10; OMRON – TM; Pilz – Service Robotik; Rethink Robotics – Baxter; SIASUN – Siasun SCR3, SCR5, HSCR5 Light und Dual Arm Robot; Stäubli – HelMo; Universal Robots – UR3,5,10; Yaskawa – Motoman HC10 und Yuanda Robotics – Yuanda.
HRC coaching: Get fit quickly in matters of security
We offer customized support with more than 10 years of experience
Only companies that focus on automation technologies will
be leaders in our digital world of tomorrow.